Paddy goes to Petra at Nenagh Arts Centre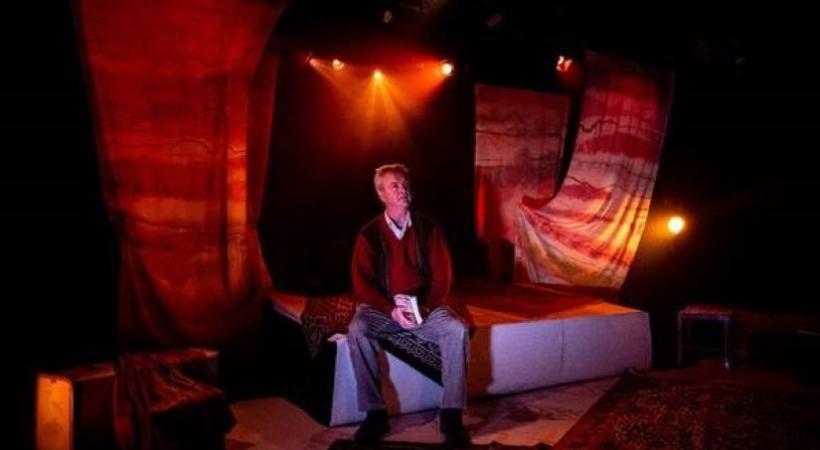 Event Description
Rural Ireland meets the Middle East in a plot which follows middle aged farmer Paddy, whose lust for life has long vanished. A trip to the ancient city of Petra in Jordan encourages him to feel a fresh wonder for the world, develop new friendships and begin an exciting love affair... with himself. Pretending to lose his passport so he can stay longer in Petra, Paddy begins a journey of recovery and renewed enthusiasm for living. How long until responsibilities of old take hold of him again, however? A play about survival and strength amidst the shackles of grief. 
Written and Directed by Áine Ryan, Performed by Brendan Dunlea, Music by Eyal Arad & Cáit Ní Riain, Lighting Design by Alex Forey, Set Design by Constance Comparot, Dramaturgy by Pamela McQueen, Photography by Steve Gregson.
Áine Ryan is an award-winning writer and theatre maker from Upperchurch, Co. Tipperary whose work responds primarily to issues of young people, women, contemporary life in rural Ireland, isolation, travel and environment. She holds a B.A (Honours) in Theatre and Performance from Goldsmiths, University of London and has had her work presented and toured all over Ireland, the UK and the U.S. She has been awarded Professional Development, Agility Award and Project Award funding from the Arts Council of Ireland.
Ticket price includes selection of sandwiches with tea/coffee to be served from 1pm. Get your tickets on www.nenagharts.com
Email reception@nenagharts.com or call 06734400
"When Paddy Goes to Petra" feels like a flawless theatrical masterpiece...Áine Ryan skilfully combines tragedy and comedy, embroiling the audience in an adventure to a foreign land" ★★★★★ Westend Evenings 
Event Categories
Age-Friendly
Event Start Time
01:00 pm
Venue Name
Nenagh Arts Centre
Venue Email
reception@nenagharts.com
Venue Telephone
067 34400
Organiser Name
Nenagh Arts Centre
Organiser Telephone
067 34400
Event Location
52.865039520971, -8.1994732